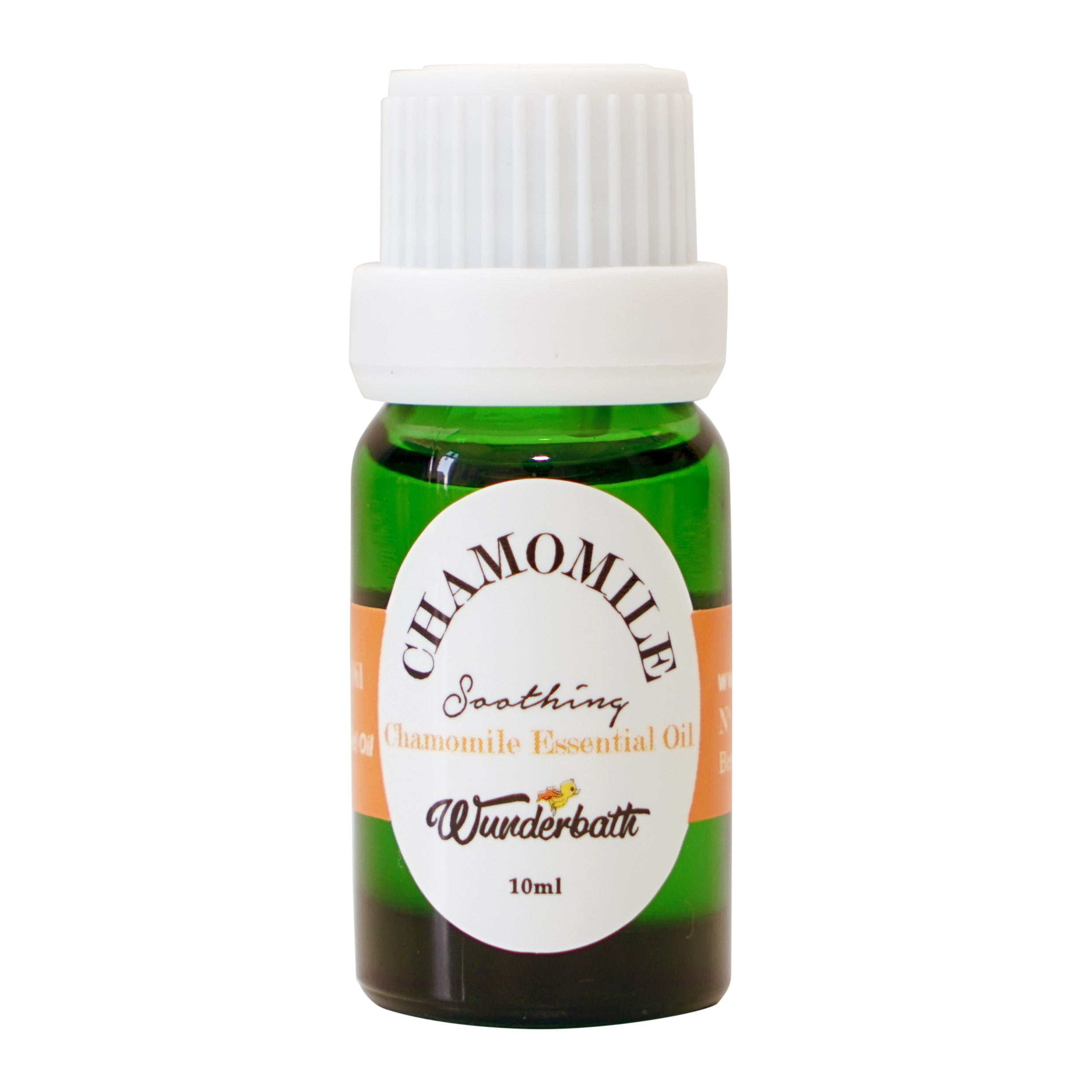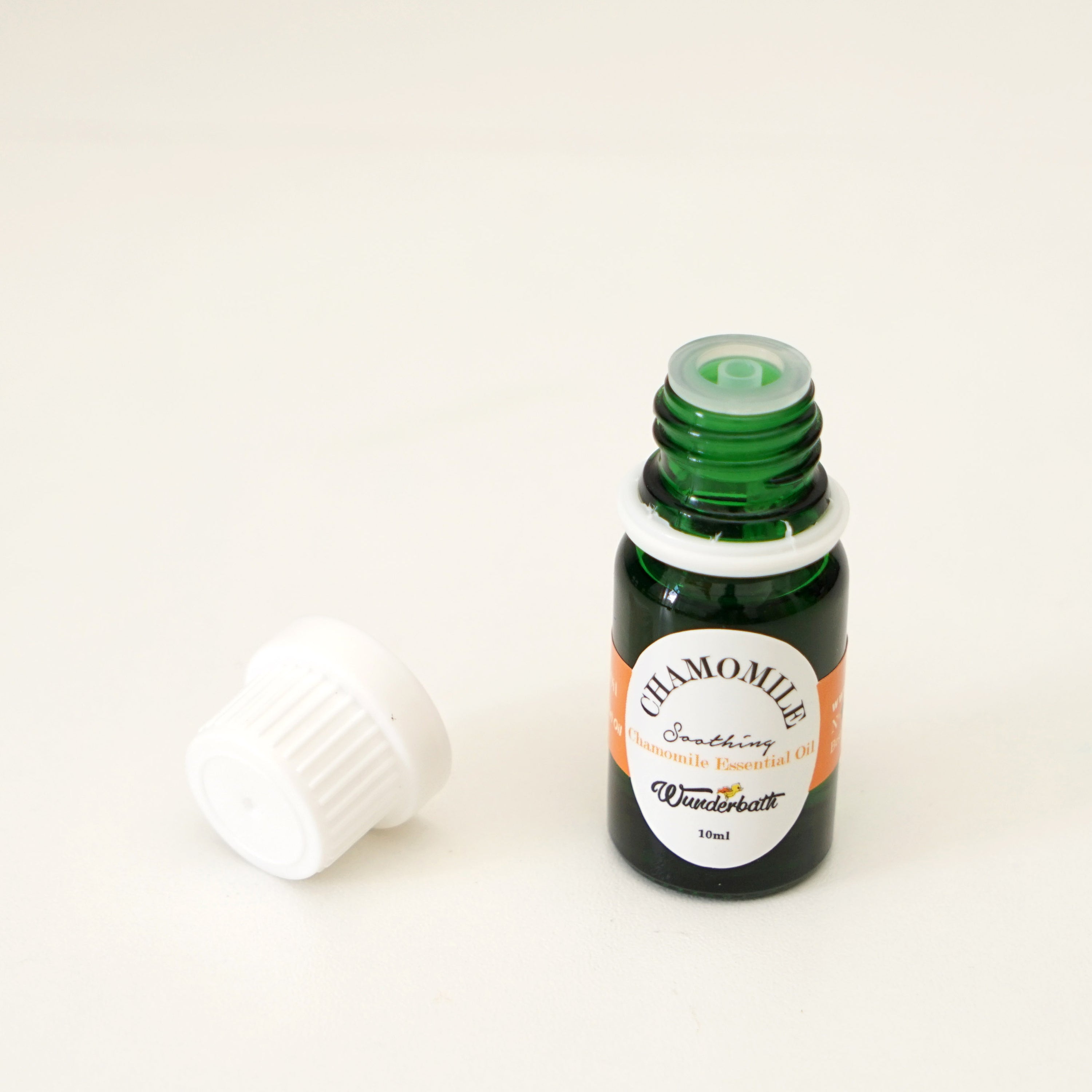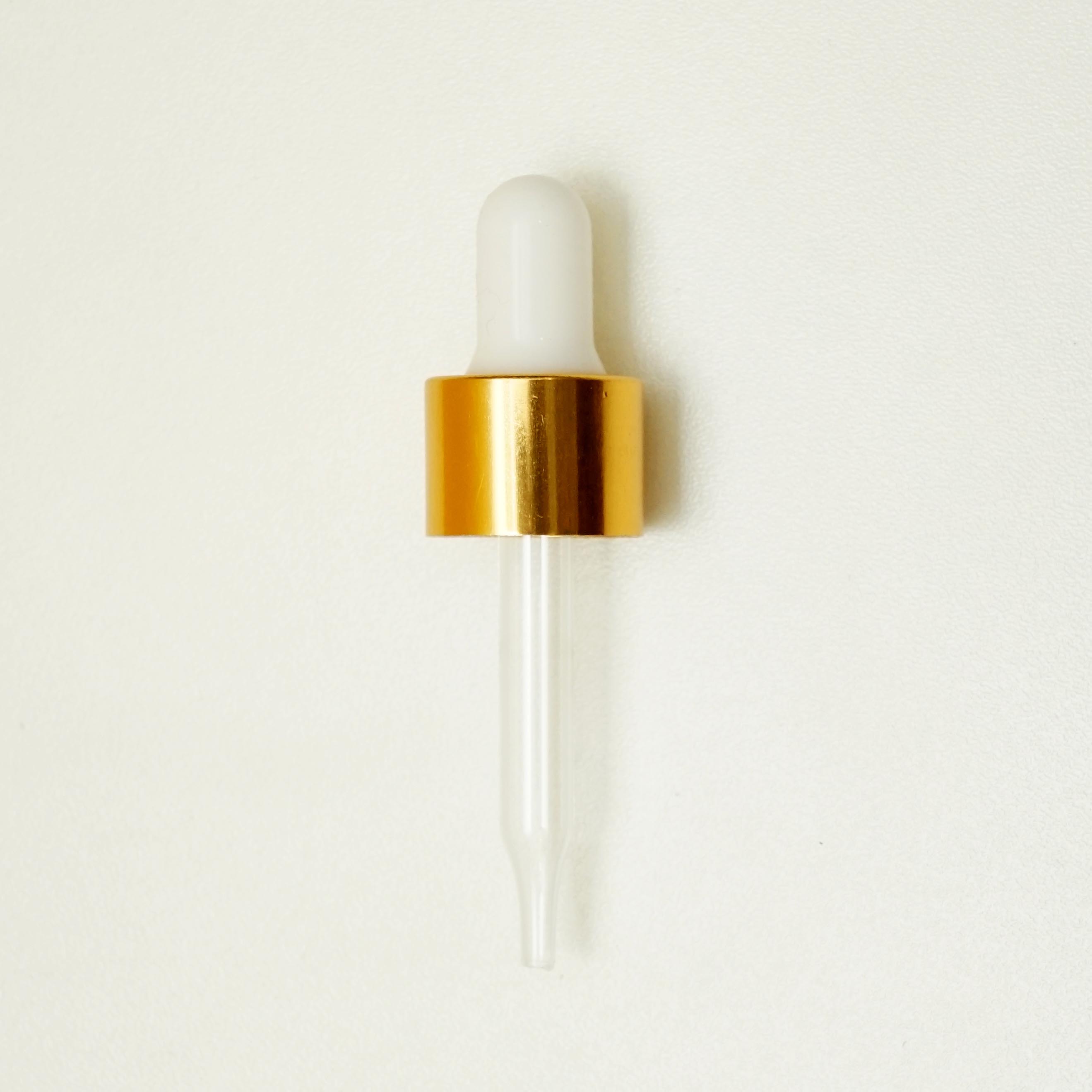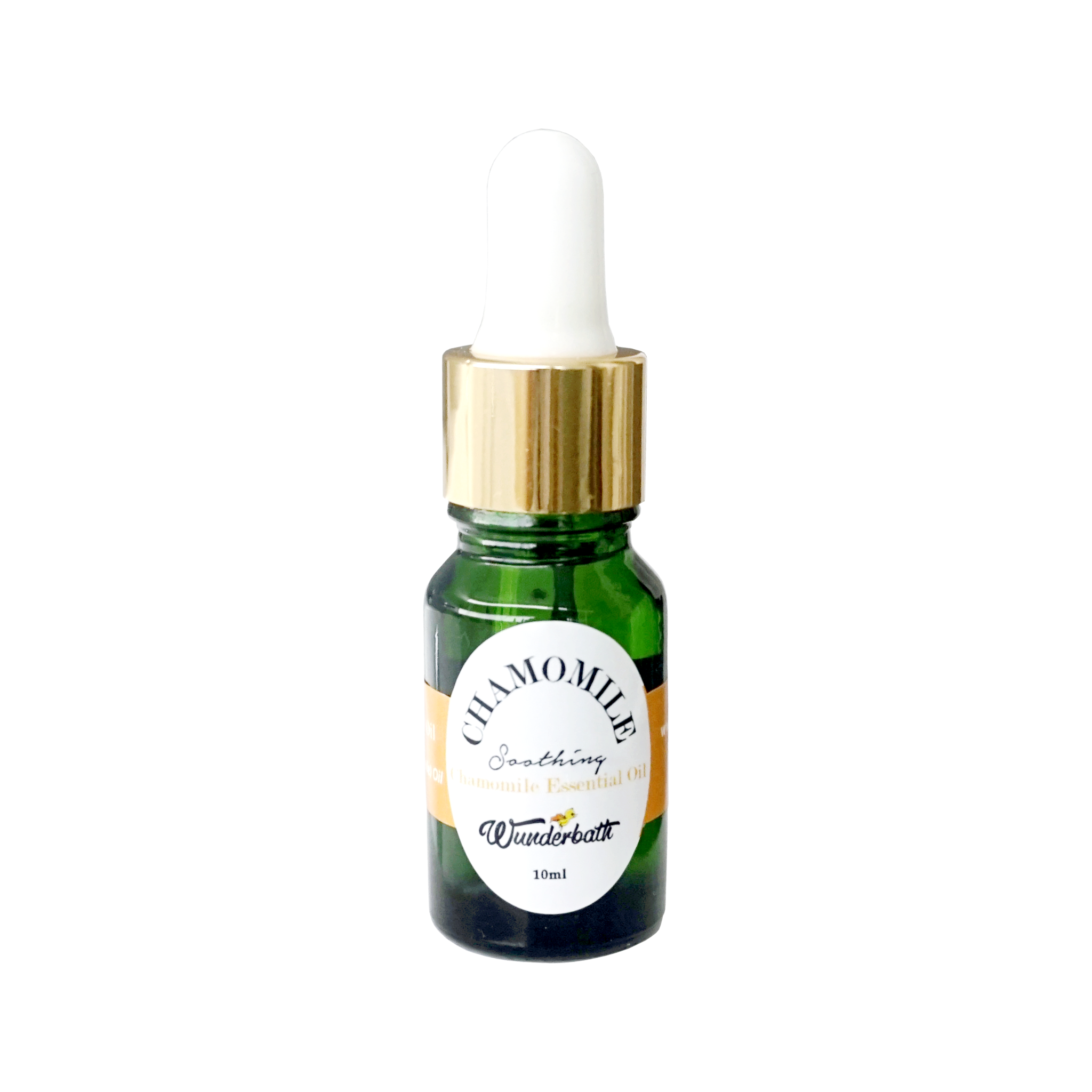 Soothing, sedating, mellow and sweet. All the calming properties that this 100% pure Chamomile essential oil holds!
Each product is handmade and formulated with plant-based ingredients to suit the most sensitive skin
---
---
Description
How To Use?
Ingredients
Roman Chamomile Essential Oil (100% PURE)

Soothing, sedating, mellow and sweet. All the calming properties that this Chamomile essential oil holds!
Chamomile has been used as a traditional and natural
anti-inflammatory, antioxidant, mild astringent and healing medicine.
It is traditionally used to treat skin irritations and inflammations of the skin.

Chamomile has been used widely as a mild sedative
to reduce anxiety and insomnia.
Source: Srivastava et al. (2011)

Country of Origin
Australia

Size
10mL

Bottle measurement
2.9cm (L) x 2.9cm (W) x 8cm (H)

Packaging
Sealed with a white plastic cap and a dripper

Add Ons
Add on a sterilized glass pipette separately for your ease of use!
Glass pipette will be packed separately in a sealed plastic wrap.

Dilution Method
Add 2-6 drops for every 10mL of carrier oil/ liquid



1. Add to your favourite lotion/base oil Add 2-6 drops for every 10mL of carrier oil/ liquid

2. Add few drops to burner or diffuser for aromatherapy
100% Pure Arthemis Nobilis (Chamomile) Oil
FAQ
Are your Essential Oils 100% pure?
Yes, all of our Essential Oils are 100% Pure. We screen our essential oil quality stringently and are all carefully selected by our founder, Evelyn, from all over the world!
Can I consume it?
Not recommended as we don't test the essential oils as food/drink/supplements. We've only tested on skin.
Can I apply it directly on skin?
We suggest that only Lavender EO can be applied directly on skin, the rest has to be diluted with carrier oils or base.
However, if your skin is ultra sensitive, we'd still recommend that you do a patch test before using any products on your skin.
More on how to do a patch test: http://www.webmd.com/allergies/guide/skin-test

How do I dilute Essential Oils before using them?
We'd recommend diluting 5-10 drops of Essential Oils in a 50ml base.You may use any plant based oils such as Jojoba/ Rice Bran/ Olive/ Coconut as a base.
Why are your prices so affordable?
We offer a very competitive price because we priced the Essential Oils ethically. Since we are also using the same Essential Oils in our products, we can secure better prices for larger quantities of Essential Oils purchased from the farmers.
What's your blending suggestions for Essential Oils?
You can try these popular blends: Rose + Lavender : could help you relax and uplift your mood, may help to alleviate PMS symptoms Frankincense + Peppermint : this combination has astringent and healing properties. It could also help in relieving pain or itchiness Chamomile + Lavender : could help you sleep better and help calm anxious minds Tea Tree + Peppermint : it's a refreshing blend with natural anti-bacterial properties
Shipping & Store Information
Order tracking
Once your parcel leaves our warehouse, we will email you a tracking link to track your order easily :)

Do allow 1-2 working days to pack all normal orders and
4-5 working days to pack all orders with any customised orders.
Get in touch
Chat with us via WhatsApp or call us at +6018201330

Or email us at hello@wunderbath.co

We are available on Monday-Saturday 10.30am-6.00pm except on public holidays.
Experience Wunder Store
Wunderbath Store at KEDAI KL
2nd Floor, Mahsa Avenue, Jalan Ilmu, KL.

Opening Hours:
Tue-Sun: 10AM - 6PM

Shopping for anything specific? Do contact us and check on stock availability to avoid dissapointment.
Contact us via WhatsApp or call us at +6018201330


Customise This Product
All of our products are CUSTOMISABLE!
MOQ for customization is as low as 50pc (for selected products).
Wholesale pricing is also available.


CUSTOMISATION IDEAS:
Custom 3D logo or custom shaped soap 
Custom logo on any products' label 
Custom lip balm flavors and colors
Custom design bath bombs and bubble baths
Custom scented hand sanitizer with your logo
Custom gift sets and unique packaging
Custom DIY workshops and event activations
WHY US?
You can depend on us to think outside of the box. 
Since our humble beginnings in 2015, we've served hundreds of happy clients (Sephora, Swarovski, Chanel, Adidas, JW Mariott, Kate Spade and more!).
Our mission is to deliver unforgettable gifts that are great for the skin. We've made the craziest ideas come true such as Guinness scented soaps, White Rabbit and Curry Puff flavored lip balm. 
We are a small team of all female Malaysian women, based in Kuala Lumpur.
You can rely on us as a one-stop solution, from ideation, production to multiple addresses deliveries.
WHAT OUR CLIENTS SAY ABOUT US?
Amanda (ADIDAS) - "Thanks Wunderbath for delivering the bulk orders on time. Good job to the team! The soap smells good and love their design so much!"
Koh (UOB)- "With the pandemic, had contacted them via email and WhatsApp to bulk purchase for work purpose. I've approached a few vendors and Wunderbath responded the fastest and the price is reasonable too. A great team who is easy to deal with. The product also received a lot of love from the recipient. I personally love it too as it smells heavenly. Would definitely recommend them for both personal or corporate gift!"
Nicholas (Motorola) - "They show true professionalism and awesome attitude while working on our project. Great collaboration with their team."
HOW TO WORK WITH US?
Let us know your theme or wildest ideas and let our team do the rest of the creative heavy lifting!
Get a FREE consultation with our bath scientists by clicking HERE (+60182013303) or email us at hello@wunderbath.co