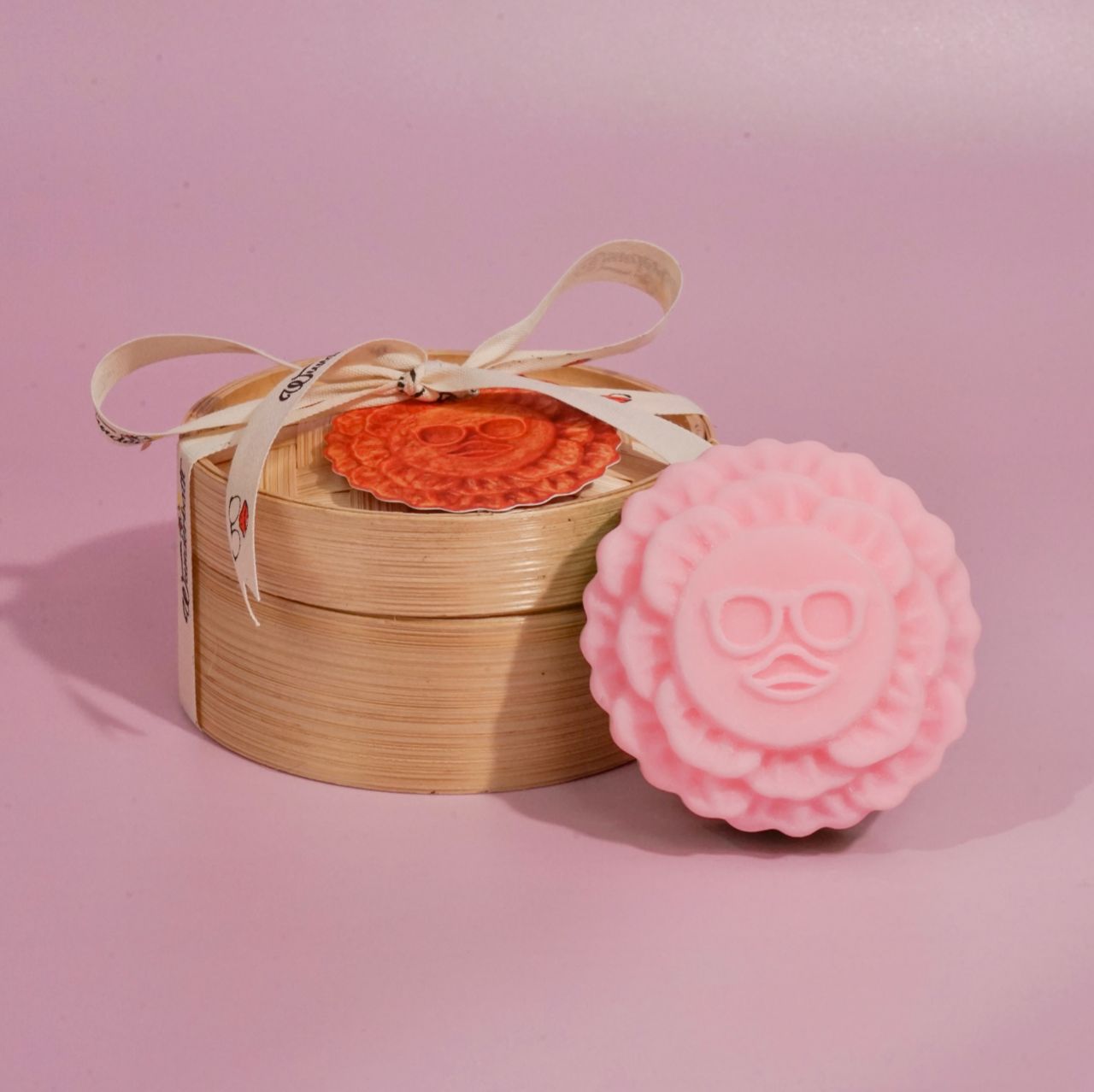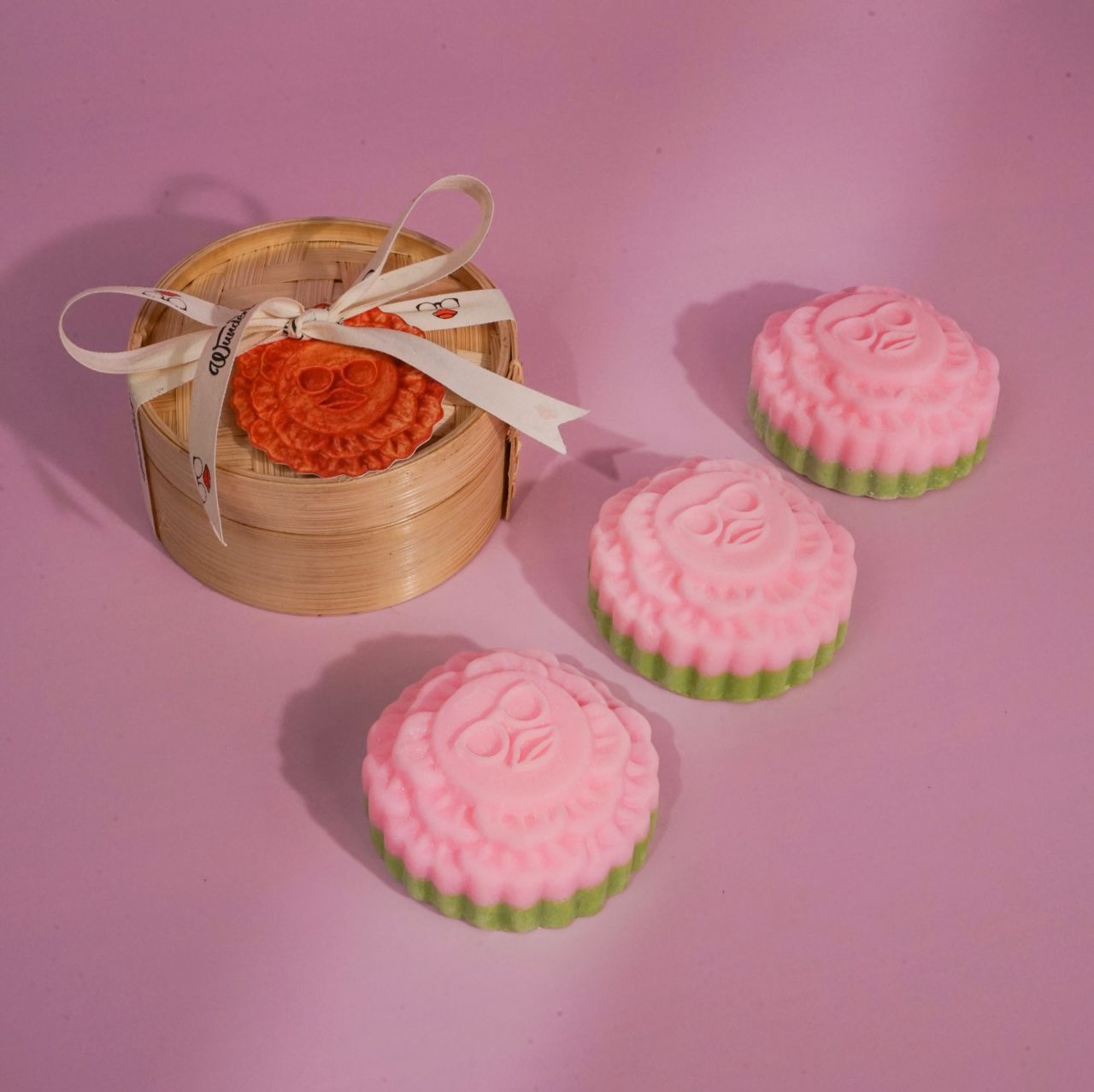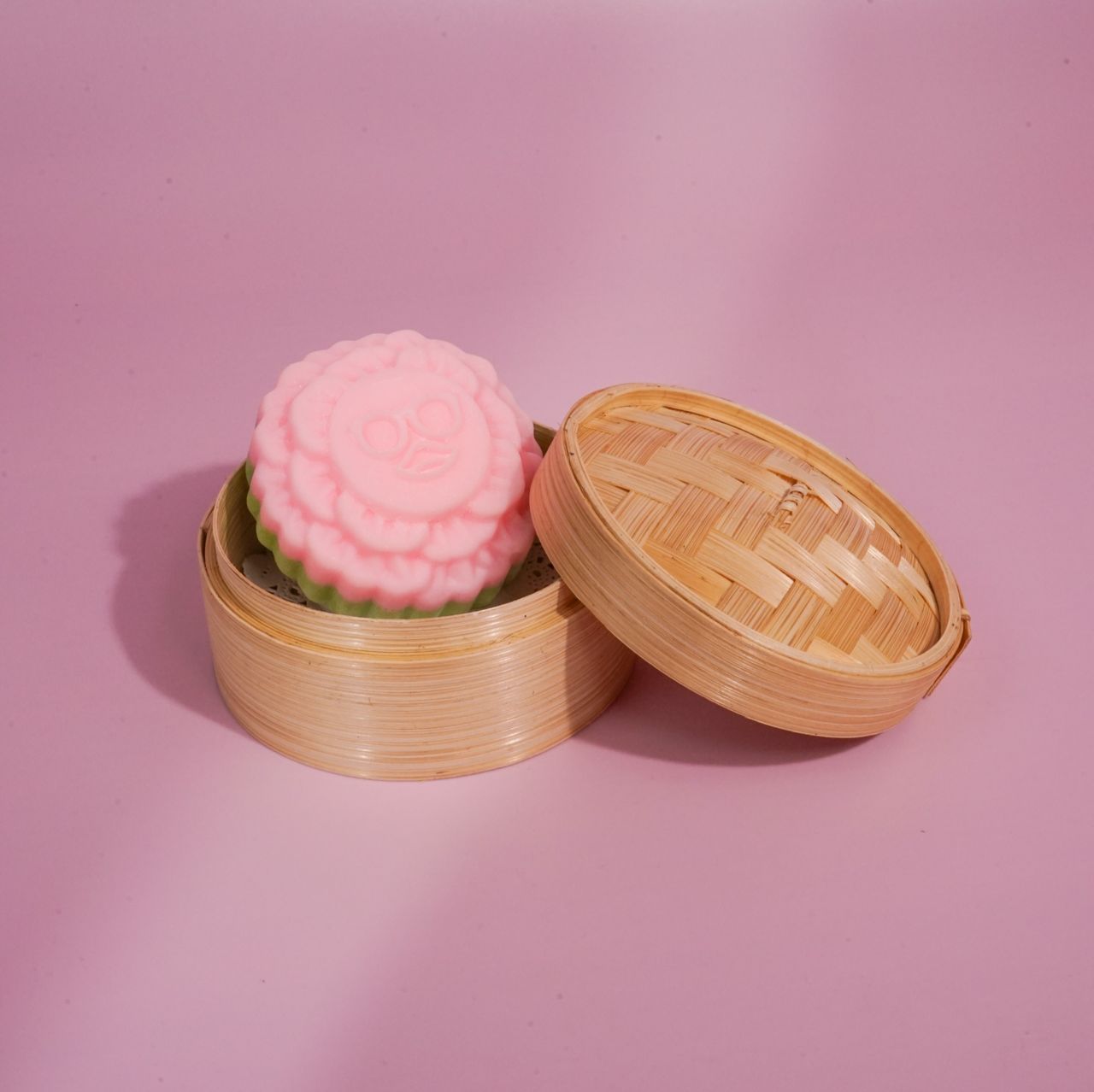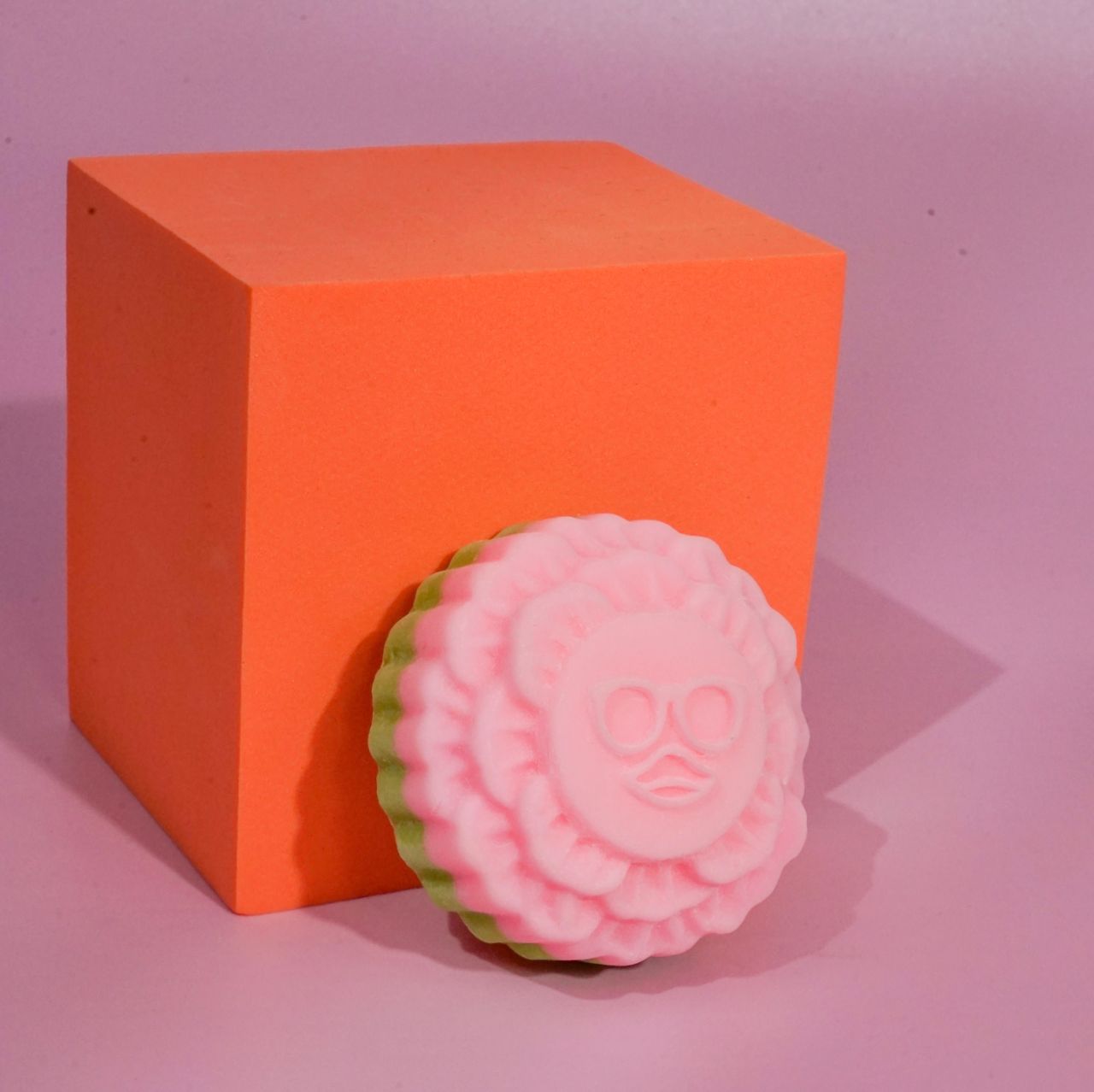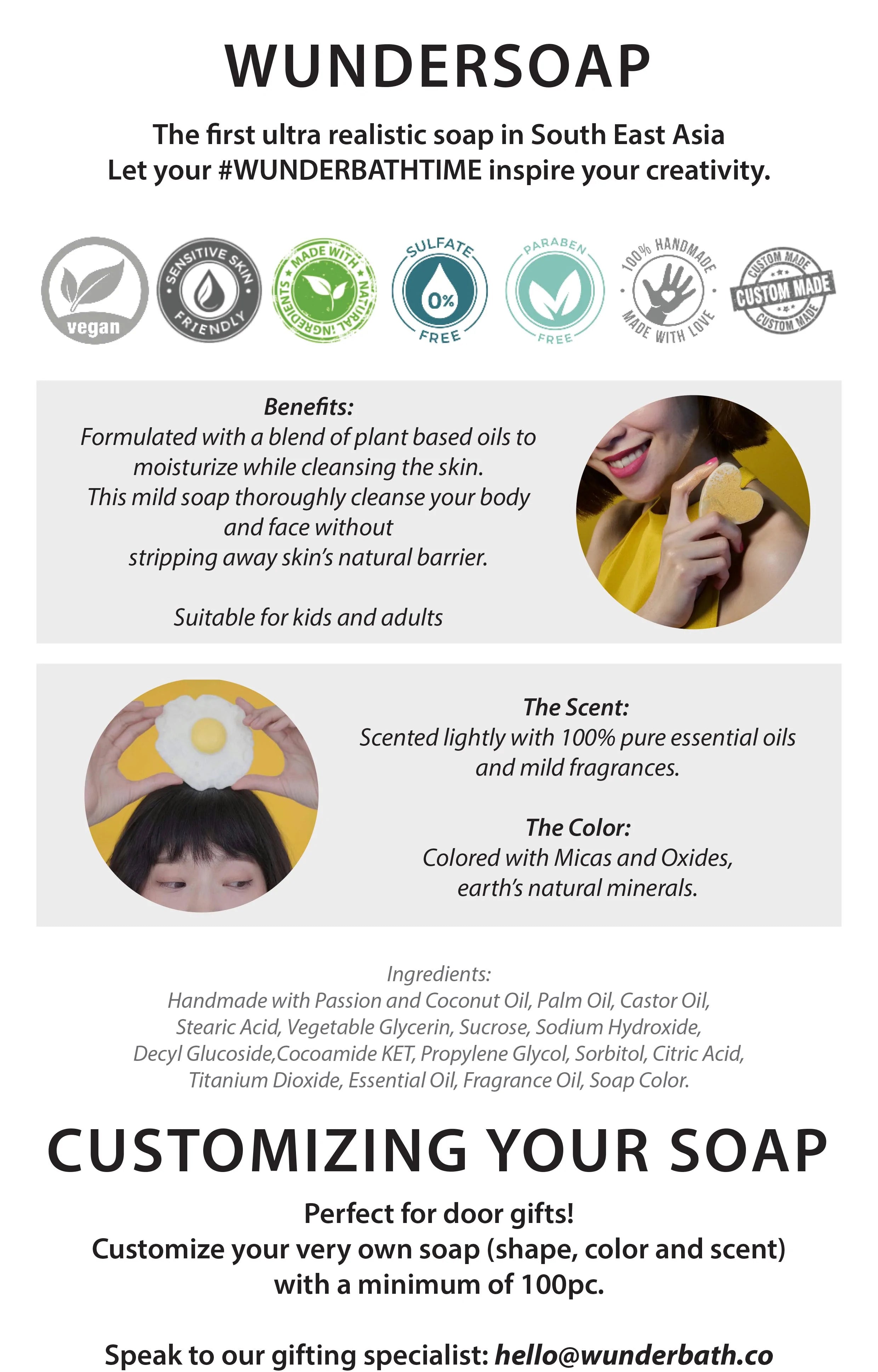 Snowskin Matcha Daifuku Mooncake Soap
Say hello to our Snowskin Matcha Daifuku Mooncake Soap 🍡🍡 Packed in our handmade bamboo steamer with ribbon and little Mooncake card
Each product is handmade and formulated with plant-based ingredients to suit the most sensitive skin
---
---
Description
How To Use?
Ingredients
Scent
Matcha Green Tea scent


Size
Snowskin Matcha Daifuku Mooncake Soap: 6.8cm (Dia) x 3cm (H)
Wooden Steamer with Ribbon & Hangtag: 9.9cm (Dia) x 5.9cm (H)


Packaging
Soap packed in an air tight plastic wrap



HANDCRAFTED LOCALLY IN MALAYSIA



Fancy some matcha daifukus themed goodies for Mooncake Festival?
Say hello to our Snowskin Matcha Daifuku Mooncake Soap 🍡🍡

Keep the adorable shape longer by keeping this Wundersoap dry in between uses.

1. Rub soap and lather on your hands or body
2. Rinse well under running water and towel dry

How to store?
Store at room temperature, in dry areas, away from direct sunlight.

Don't throw away leftover soaps!
Just pop leftover soaps into our Wunder Foam Bag.
add a little bit of water and rub the bag to have creamy and bubbly foam!
Coconut Oil, Palm Oil, Castor Oil, Stearic Acid, Vegetable Glycerin Sucrose, Sodium Hydroxide, Decyl Glucoside, Cocamide KET, Propylene Glycol, Sorbitol, Citric Acid, Titanium Dioxide, Essential Oil, Fragrance Oil, Soap Color.
Snowskin Matcha Daifuku Mooncake Soap
FAQ
What is the shelf life of the soaps?
The shelf life for soap is up to 3 years. Best kept in a low humidity environment.
The scent or color might change over time slightly. So we'd recommend for you to use it within 6 months of purchasing it.

Is this suitable for sensitive skin?
Absolutely!
Each and every wunderproduct we sell is formulated for the most sensitive of skin. However, to be absolutely sure and to avoid issues, please do a patch test before properly using any product.

More on how to do a patch test: http://www.webmd.com/allergies/guide/skin-test
Can I use it on my face?
Yes, can! The formulations are mild and suitable for sensitive skin even for face because it's Sulfate-free and Paraben-free.

It is formulated with plant oils to nourish and moisturize skin, which is scented with alcohol-free fragrances and essential oils.

It'll be a waste to throw the leftover soaps. What can I do about it?
No worries! You can get our Wunderfoam bag and throw in any leftover soaps in it to help soap foam up like new.

How do I personalize this soap?
We got you! You may contact us via whatsapp (018-2013303) or email us at hello@wunderbath.co and we will assist you.
Shipping & Store Information
Order tracking
Once your parcel leaves our warehouse, we will email you a tracking link to track your order easily :)

Do allow 1-2 working days to pack all normal orders and
4-5 working days to pack all orders with any customised orders.
Get in touch
Chat with us via WhatsApp or call us at +6018201330

Or email us at hello@wunderbath.co

We are available on Monday-Saturday 10.30am-6.00pm except on public holidays.
Customise This Product
All of our products are CUSTOMISABLE!
MOQ for customization is as low as 50pc (for selected products).
Wholesale pricing is also available.


CUSTOMISATION IDEAS:
Custom 3D logo or custom shaped soap 
Custom logo on any products' label 
Custom lip balm flavors and colors
Custom design bath bombs and bubble baths
Custom scented hand sanitizer with your logo
Custom gift sets and unique packaging
Custom DIY workshops and event activations
WHY US?
You can depend on us to think outside of the box. 
Since our humble beginnings in 2015, we've served hundreds of happy clients (Sephora, Swarovski, Chanel, Adidas, JW Mariott, Kate Spade and more!).
Our mission is to deliver unforgettable gifts that are great for the skin. We've made the craziest ideas come true such as Guinness scented soaps, White Rabbit and Curry Puff flavored lip balm. 
We are a small team of all female Malaysian women, based in Kuala Lumpur.
You can rely on us as a one-stop solution, from ideation, production to multiple addresses deliveries.
WHAT OUR CLIENTS SAY ABOUT US?
Amanda (ADIDAS) - "Thanks Wunderbath for delivering the bulk orders on time. Good job to the team! The soap smells good and love their design so much!"
Koh (UOB)- "With the pandemic, had contacted them via email and WhatsApp to bulk purchase for work purpose. I've approached a few vendors and Wunderbath responded the fastest and the price is reasonable too. A great team who is easy to deal with. The product also received a lot of love from the recipient. I personally love it too as it smells heavenly. Would definitely recommend them for both personal or corporate gift!"
Nicholas (Motorola) - "They show true professionalism and awesome attitude while working on our project. Great collaboration with their team."
HOW TO WORK WITH US?
Let us know your theme or wildest ideas and let our team do the rest of the creative heavy lifting!
Get a FREE consultation with our bath scientists by clicking HERE (+60182013303) or email us at hello@wunderbath.co